Summer is here, and there's no better way to beat the heat than taking a refreshing dip in the pool. But what's a pool day without the right accessories? Whether you're lounging by the pool or hosting a party, the right pool accessories can make all the difference in your swimming experience. From practical items like sunscreen and pool cleaning supplies to fun items like pool floats and games, we've rounded up the 10 best pool accessories to help you make a splash with style.
Pool Floats and Loungers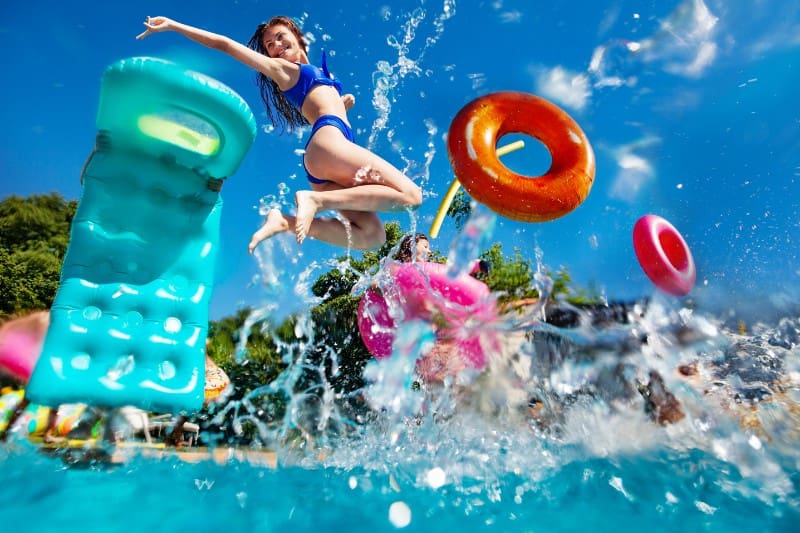 No pool day is complete without a pool float or lounger. From classic floats like the giant swan to novelty floats like a slice of pizza, there's a float for everyone. Loungers are perfect for sipping a drink or reading a book. Choose from many different floats and loungers, so pick one that suits your personality and enjoy a relaxing day in the sun.
Waterproof Phone Case
Keep your phone safe and dry with a waterproof phone case. These cases are perfect for capturing photos and videos in and around the pool without worrying about water damage. Some waterproof phone cases even allow you to take photos and videos underwater so that you can capture all the fun and action.
Pool Games
Add some excitement to your pool day with pool games. There loads of different games to choose from, including pool basketball, pool volleyball, and pool noodles. These games are perfect for kids and adults alike and are a great way to stay active while having fun.
Outdoor Speakers
No pool party is complete without some tunes. Outdoor speakers are a must-have accessory for any pool party or gathering. They are designed to withstand the elements, so you won't need to worry about water damage. Some outdoor speakers even float in the pool, so you can enjoy your music while you swim.
Sunscreen and Sun Protection
Protect your skin from the sun with sunscreen and sun protection. Make sure to choose a sunscreen with a high SPF to protect your skin from sunburns and other damage. Additionally, wear a hat or sunglasses to protect your face and eyes from the sun.
Pool Cleaning Supplies
Keep your pool clean and clear with pool cleaning supplies. These supplies include pool skimmers, brushes, and vacuums. Regular cleaning of your pool will keep it looking great and help prevent the growth of algae and other harmful bacteria.
Underwater Lighting
Create a relaxing and atmospheric environment in your pool with underwater lighting. These lights are designed to be installed underwater and can change colors or patterns to create a beautiful and calming effect.
Towels and Robes
Stay warm and dry after a swim with towels and robes. Make sure to have plenty of towels for you and your guests. Robes are also a great accessory, especially on cooler days when you want to stay warm and comfortable.
Drink Holders
Keep your drinks close at hand with drink holders. These holders can be attached to your float or lounge chair or float in the pool alongside you. This way, you don't have to worry about spilling your drink or getting out of the pool to get a refill.
Inflatable Drink Cooler
Photo Credit: airhead.com
Keep your drinks cold and within reach with an inflatable drink cooler. These coolers can be placed in the pool, so you don't have to leave the water to get a cold beverage. They are also perfect for pool parties or gatherings, as they can hold multiple drinks at once.
FAQs:
Do I need all these accessories for a fun swimming experience? No, you don't need all these accessories for a fun swimming experience. However, they can enhance your experience and make it more enjoyable.
Can these accessories be used in any pool? Most of these accessories can be used in any pool, but read the product description and specifications before purchasing.
Are these accessories safe for children? Most of these accessories are safe for children, but always supervise them while they are in or around the pool.
With these 10 pool accessories, you will have a fun and stylish swimming experience. From floats to speakers to cleaning supplies, we've got you covered. Of course, remember to stay safe in the sun with sunscreen and sun protection, and keep your drinks cold and within reach with drink holders and an inflatable cooler. So, grab your swimsuit and get ready to make a splash with these must-have pool accessories!