Pool Remodeling & Renovations in McKinney, TX
Pool remodeling and renovations can transform an outdated or damaged pool into a beautiful and functional outdoor oasis. A pool renovation can be a smart investment for any homeowner. Whether you want to resurface your pool, replace tile and coping, add new or updated decking, or upgrade your pool equipment, a swimming pool renovation can improve the overall appearance, efficiency, and safety of your pool. By working with Swim Clear, you can ensure that your pool renovation project will be completed to your satisfaction, on time, and within your budget. See below on how we can make your vision a reality.
Resurfacing your pool is an important aspect of swimming pool maintenance and can help prolong the life of your pool. Over time, the surface of your pool can become damaged, cracked, or stained, which can not only affect the appearance of your pool, but can also lead to leaks or other structural issues. Resurfacing your pool can help restore the surface to its original condition, creating a smooth and durable finish that is resistant to wear and tear. Additionally, a resurfaced pool can be easier to clean and maintain, reducing the need for chemicals and saving you time and money in the long run. Call us or stop by today to see our variety of options.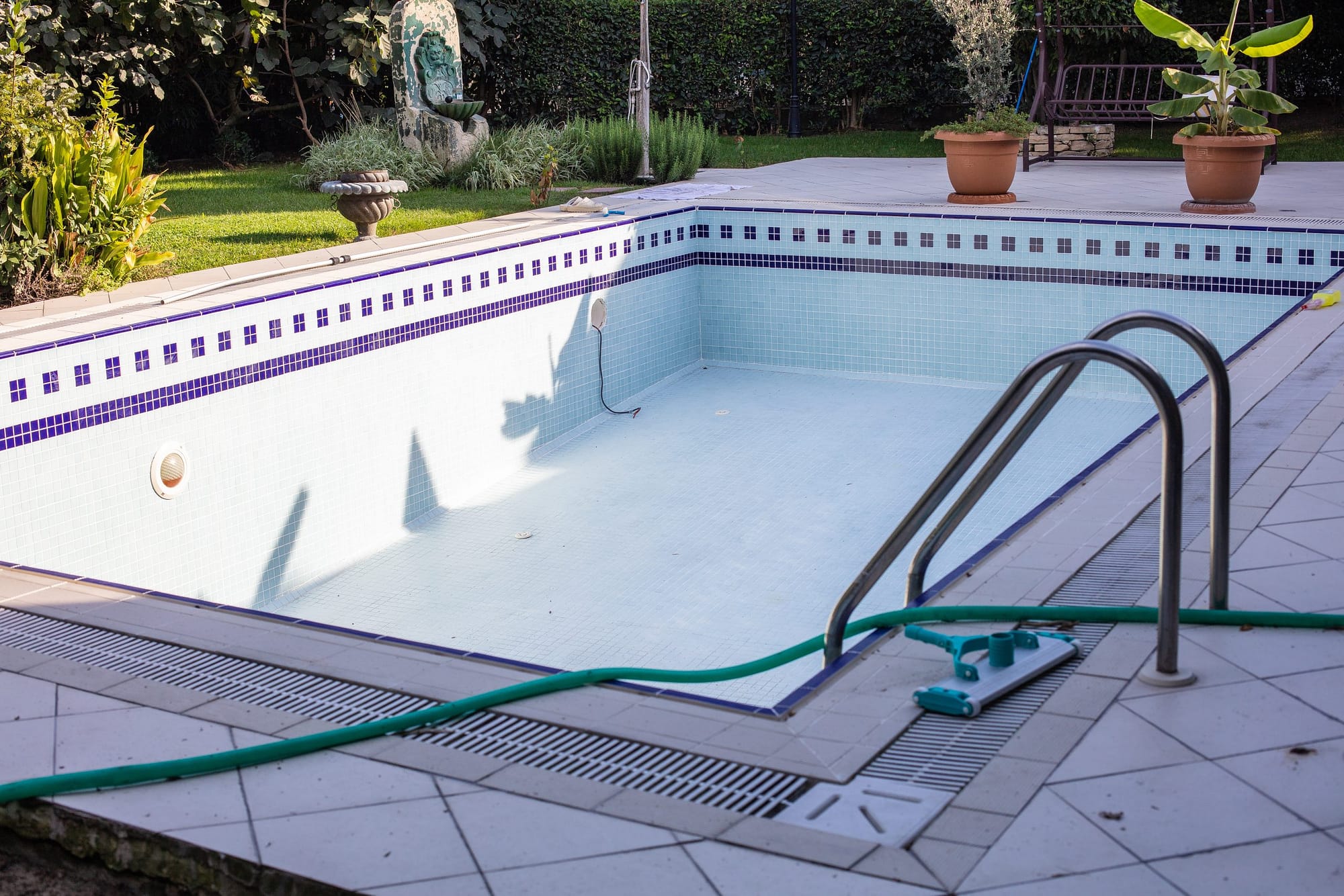 Pool Tiles and Coping Replacement
Replacing the tile and coping around your pool can be a great way to give it a fresh, modern look and enhance its overall appeal. The tile and coping serve both a functional and aesthetic purpose, helping protect the pool's edge from wear and tear while also providing a finished, polished look. Over time, these features can become worn, cracked, or outdated, detracting from the pool's appearance and potentially even posing a safety risk. There are a variety of materials available for both tile and coping, including flagstone and pavers. Swim Clear is a pool renovation company that can help guide you through the selection process and ensure that the installation is completed to your satisfaction.
Replacing or adding Decking
A complete pool deck replacement or adding decking to your pool area can transform the look and functionality of your outdoor space. Decking not only provides a smooth surface for walking and lounging, but it also adds to the visual appeal of your pool. Over time, decking can become worn, cracked, or faded and pool deck resurfacing may be needed. By replacing these pieces, you can create a more inviting, functional, and beautiful space for entertaining and relaxing. There are many types of decking available and Swim Clear can help you choose the best for your outdoor space.
Upgrading your pool equipment can be a smart investment for any pool owner. Over time, pool equipment can become outdated or inefficient, leading to increased energy costs, reduced performance, and potential safety hazards. Upgrading your pool equipment, such as your pump, filter, or heater, can both improve the overall performance of your pool and reduce energy consumption and save you money in the long run. Swim Clear can ensure that your equipment upgrades will suit your needs and budget and that your pool remains safe, efficient, and enjoyable for years to come.
McKinney
Swim Clear Pool Supply
4900 W. Eldorado Pkwy, Suite 148
McKinney, TX 75070
469-952-3937
469-617-3707
[email protected]
Store Hours
Monday – Saturday: 9:00a – 6:00p
Sunday: Closed
Swimming Pool Service and Supply serving:
Frisco, McKinney, Allen, Plano, Carrollton
Swim Clear Pool Supply
4900 W. Eldorado Pkwy, Suite 148
McKinney, TX 75035
P: 469-952-3937