Owning a swimming pool is a dream for many families. Whether you just had a pool built or installed or just purchased a house with a pool, it's essential to know how to care for it to get all the benefits and enjoyment from it.
What are the basics of Pool Maintenance?
Pool enjoyment requires attention to the 4 C's of pool maintenance: Circulation, Cleaning, Chemistry, and Calendaring.
So let's start with calendaring.
When do I need Pool Supplies?
Specific tools are more critical than others, depending on where you are in the pool season calendar. But even if you live in a climate where opening and closing your pool isn't necessary, you (and your budget) will benefit from daily, weekly, monthly, quarterly, and annual pool maintenance plans.
An effective daily and weekly routine is essential for inground and above-ground pool maintenance.
Weekly Pool Cleaning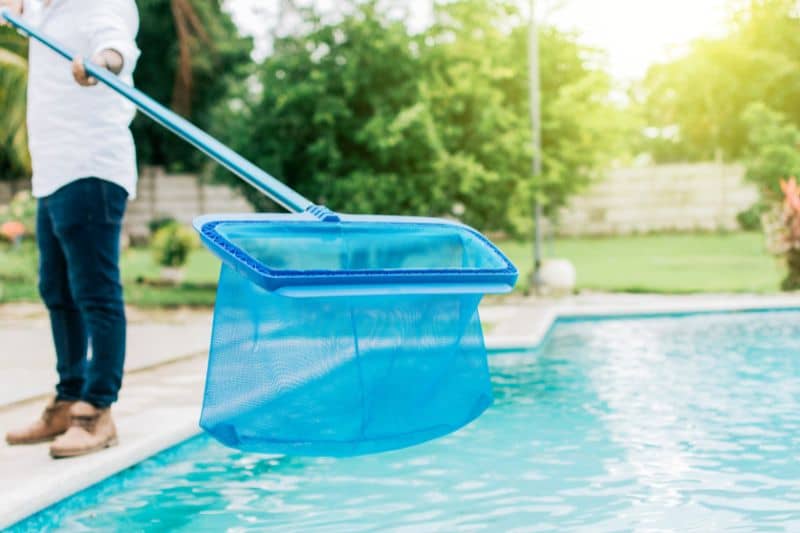 Setting specific weekly plans for pool cleaning is essential for keeping it functional and healthy for you and your family. And there are two main activities: cleaning the pool and the pool water.
When it comes to cleaning the pool, the must-have pool tools are:
Pool skimmer
Pool brush, and
Even if your pool is enclosed, which will minimize leaves and other tree-related debris, it's still important to have a pool skimmer to remove unwanted debris, small animals, and bugs from the pool.
You'll need the pool brush to clean the pool liner of debris, mold, algae, and build-up caused by sunscreen, cosmetics, hairspray, or gel that makes it into the pool.
Whether you get a manual or automatic pool vacuum, the price is quickly offset by the freedom it gives you by removing larger debris, dirt, food crumbs, and other large and small particles. Unfortunately, these can quickly accumulate to make your pool unhealthy and unsightly. If you don't have your vacuum running continually, be sure to run it at least weekly as part of your weekly pool calendaring.
If you're in climates that enjoy winter or even cool spring and autumn temperatures, you might consider a pool heater an essential must-have.
See our favorite Pool Cleaners, Pool Filters, and Pool Heaters.
What Pool Chemicals do I need?
Maintaining the chemical balance is part of keeping your pool and water clean. To do that, you need a few supplies:
Pool testing kit – testing alkalinity, pH, and sanitizer levels
Alkalinity increaser – to avoid pH spikes in either direction
Sanitizer – chlorine, bromine, etc.
What other Pool Tools do I need?
Other accessories you need for your pool:
A pump to circulate water.
An extension pole for your skimmer and brush if your pool is large or deep.
A pool heater.
A cover if you'll be closing your pool for the winter. (And a clean, dry place to store it in the summer.)
Can I have all of this done for me?
Even with an easy-to-remember schedule and just a few chemicals needed, sometimes you'd just rather have someone else take care of everything, so all you have to do is slip into your swimsuit and grab a towel to enjoy your pool.
If that's you, we're here for you. See our complete list of pool maintenance services and set your mind at ease.
Anything else I need for my Swimming Pool?
Now that you know your pool is clean, healthy, and beautiful, you focus on the extras.
Pool furniture
The first thing you probably think of when it comes to pool furniture are lounge chairs but think about outdoor rooms and all-weather sofas, ottomans, dining tables, and even outdoor theatre seating.
Pool Playscapes
What if you added a slide to your pool? Or a fountain?
Add a net for water volleyball or pool badminton.
You could even go for a home splash pad.
Pool toys
Pool toys range from tubes and rafts for floating to underwater scavenger toys you can swim to the bottom to retrieve.
A whole cadre of inflatables, from beach balls to floating island playscapes, are always great. Consider a floating bar or a floatie for adult-themed pool parties for your ice chest.
Waterproof rackets and shuttlecocks for badminton add fun team play to pool outings, as are Nerf footballs, basketballs, and tennis balls.
Pool-surround landscaping
Considering your pool area as an outdoor party house, you should add landscaping that enhances the atmosphere.
Bamboo creates a tropical island feel around your pool, as does a tiki bar and tiki torches (which do double duty by adding ambiance while keeping mosquitoes away).
A rock garden, rock fountain, or the installation of a small berm that enhances the pool surround adds to the I'm-on-vacation feel of your pool.
Other perfect features around a pool are a firepit, a hammock hut, and a sandbox or beach.
Backyard appliances
Adding an outdoor fireplace or kitchen is a great way to step up your pool game while keeping the party outside on beautiful days. For an added unique feature, install a pizza oven nearby.
Outdoor shower
As the party is wrapping up, an outdoor shower helps ensure that the outside doesn't get tracked inside. It can be freestanding in the open or placed inside a private or semi-private stall to allow for changing into or out of swimsuits.
Pool cabana
For even more privacy, add a pool cabana. This can range from a portable shed finished with a dressing room to a stationary camper parked nearby with shower and restroom facilities to a site-built structure complete with a kitchen, storage, running water, and climate control, specifically built to withstand the rigors of outdoor living.